Character:
Themselves
Created by:
AMC
Directed by:
TBC
Written by:
TBC
Produced by:
TBC
Other cast:
Jeffrey Dean Morgan, Hilarie Burton
Release date:
17th April 2020
Episodes:
1x01
Original airdate:
17th April 2020
Genre:
Factual
The Morgans check in with their friends Jensen Ackles and Danneel Ackles, Christian Serratos from The Walking Dead, plus their local family physician, all appearing via video chat.
Episodes
1×01 – As part of their online video series, taking part during the quarantine period currently happening due to the Covid-19 pandemic, the Ackles were interviewed by their good friends Hilarie Burton Morgan and Jeffrey Dean Morgan.
Photos
Home > Television Productions > Friday Night In With The Morgans >

Screencaptures
Videos
Trivia
During the show, the Ackles revealed they were working on something themselves!
Featured Gifs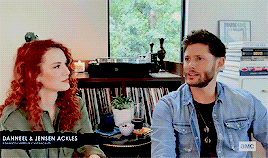 Source: Jensen Ackles Network
Quotes
TBC